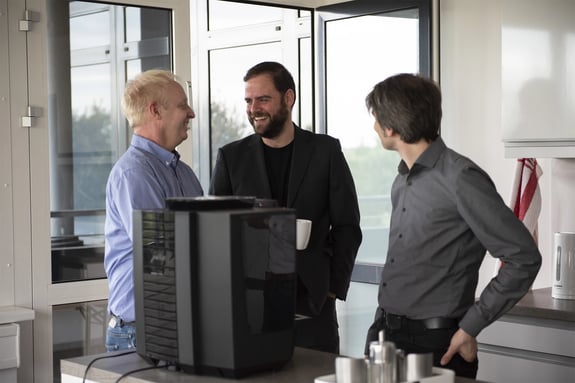 About us
We are Systrion
Founded on October 1st, 2000, Systrion AG started out as a consulting firm for Enterprise Application Integration (EAI), i.e., the connection of heterogeneous IT systems. Over the years, Systrion focussed more and more on the subjects of master data and data quality management.

Today, in the age of an increasingly rapid digitization of their businesses, our customers from the food, consumer goods and technical industries use our cloud solutions synfoxx und fuzzit to ensure the availability of high quality master data along their whole supply chain.

As the subject of EAI remains deeply engrained in the DNA of Systrion, we can optimally support our customers in the optimiziation of their master data processes with their business partners - completely independent of any system boundaries.
Team
Our team consists only of young people.
Young in body or young in mind.
Or both.
We have colleagues who still know how to program in Cobol, Fortran IV, Turbo Pascal or even Assembler for 80286.
They're just as obsessed with writing the perfect code today as they were when they took apart their first Sinclair ZX80.
And this experience often makes all the difference.
At the other end of the age spectrum, we have colleagues fresh out of university who open up new perspectives for us with their intuitive handling of new media and innovative user interfaces.
Diversity
But of course our diversity does not stop there. We really don't care if our colleagues are male, female, tall, short, black, white, red, green or a mixture of all. Neither do we care about their religion, their country of origin, nor about their favorite soccer club (well, there, on second thought
...).
Values
However, what is extremely important to us and where the fun stops even for us, are our common
values
, which are the basis for our cooperation with customers, partners and colleagues.
Wolfram Koller
CEO
Wolfram studied physics and computer science in Hamburg, Montpellier and Heidelberg. After graduating, he first worked at Andersen Consulting (today "Accenture") and then at Hewlett-Packard. During these 11 years as IT consultant he implemented SAP® and all kinds of other IT systems across Europe. In the end he was district manager for HP in Hamburg and responsible for HP's SAP business in northern Germany. He founded Systrion AG in October 2000, which he has been managing as CEO ever since.
Wolfram is married and has two adult children. Whenever he is not busy with his two main hobbies (family and Systrion), he relaxes with triathlon, reading or listening to jazz. In winter you can occasionally find him on one ski slope or another, in summer in one ocean or another.
Norbert Obier
Sales Director
Norbert has been in charge of sales at Systrion since the end of 2013. His extensive sales experience includes positions at Siemens, Open Text and Steeb.
Norbert is married with 4 children and enjoys swimming, sailing and jazz.
Dr. Olaf Petzschmann
CTO
Olaf studied physics in Dortmund and did his doctorate in theoretical physics in Potsdam. After several years as an IT consultant at Microsoft, he did an MBA at the ESADE Business School in Barcelona and successfully founded a start-up for the compensation of CO2 emissions. Olaf has been a member of the Systrion team since 2013 and has been responsible for software development since 2016.
Olaf is married and has 4 children. He relaxes by programming (so all day...), running marathons, playing guitar, reading and travelling.
Paulchen
Chief Office Dog